The Taomis Collective.
Deity: STRAIN STATUS UNKNOWN.
Sub-Deity:(Strains of Original) Davori, STRAIN STATUS UNKNOWN.
Taomis Hive Minds: Del-Lyra, Nal-Naythia, STRAIN STATUS UNKNOWN.
Homeworld: Unknown.
Main base of Operations: Nalzata(Taomis Hive N)
Classification: Fanatical Parasitic Zealots... not really.
Classification: Viral Plant-Life-form.
The Taomis Collective, as known as the other races. Is not a true name. It is simply a Darkai Loran Translation. The Taomis have no 'Empire' Name. It is not sure why many races think they are a kind of Empire.
The Taomis, in true fact, are entirely Different. The Taomis are not a race. They are a Virus.
The Taomaikal Taomisanllma Virus, or 'Taomis Virus' for short, are a Parasitic race of Plant Forms. Most races are created by their Deities, But the Taomis are part of their Deity. Their original Deity created the Talynar Strain which eventually started to create their own strains.
The 'Common' belief is that the Taomis Deity is called Davori.
Davori is a strain made by the True Taomis Deity to oversee them. Technially speaking, Davori is part of a greator whole. Davori has a less known Sister strain which is Manipulates the Taomis more then Davori. His Sister Strain is unknown as she has never been seen, and those who have seen her faced only the fear of death.
The Taomis are known for infesting Planets. Once a Talynar Taomis Plants itself into the ground, it will extend its roots and inject its Viral Pollen into the Air. This mutates creatures which come into contact with it. It does not however usually effect the Biology of Sentient Life-forms, though there has been two known exceptions. The Talynars roots will also affect the ground around it, making it match to enviroment of the the Taomis's element, shadow, fire or ice. The effects can be reversed by destroying the Talynar Taomis, though they are usually protected by a very strong Shadow-Based Shield of Unknown Origin. Unfortunately, any affected Native animals can not be reversed and must be destroyed.
Known Taomis Strains:
Note: The names marked with ( ) are the common names races use instead of their true names.
Talynar Taomis
(Talynar)
Original strain, these Plant Forms are thrown at planets from orbit. Once they hit the ground they spread their roots and release a Viral Pollen into the air. The roots will infest the ground while the Talynar still Lives. The Pollen can mutate Native creatures(None-Sentient life forms) and mutate them into Taomis-Forms. The effect can not be reversed and the infected creature has to be destroyed. Talynar Taomis come in two forms, the first are the Versions which plant themselves into planets, these are defenseless but have a strong Shadow-Based shield. A second form is a plant which emerges from the Talynar after rooting into a planet. These can attack with there spiked vines, burrow underground to move. Throw Shadow balls at enemies, and other amusing ways to cause havoc. Magical Attribute: Dark.
Xiitai Taomis
(Shadow Sorceror)
The Shadow Sorceror are a mage strain.
Taomis cannot truly cast magic. The Shadow Sorcerors are no exception.
They use Crystals with Magical power to cast spells. They have three Crystals each. A fire, Frost and Shadow. The Shadow uses the strongest Taomis Abilities, calling Down Talynar Strains, summoning Nearby Taomis to the area for aid, and Throwing numerable Shadow Abilites, Shadow Balls and Deaths Grasp are Popular choices, but Infestaii is also well known. The Fire Crystal can only fire fire balls. The Frost Crystal can summon small Blizzards and fling Frost Balls into the Ranks of Enemies. There Dark Staffs allow them to Teleport.
Magical Attribute: Dark, Fire, Ice.
Indita Taomis
(Indi Sorceror)
Indi Sorcerors are a rarer but extremely Strong type of Shadow Sorcerors, they have six Crystals, two shadow, two fire and two Frost, making them extremely dangerous. They have more Shadow Abilities too.
Magical Attribute: Dark, Frost.
Diman Taomis.
(Diminion)
The Diminion Taomis is a Humoid Plant-Life Form.
It has a blade arm infected with Talynar Spores meaning it can transform Native Animals into Taomis Forms.
Magical Attribute: Dark.
Tamaii Taomis
(Del-Saban)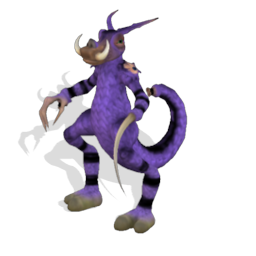 A Basic and Weak Taomis Form. It is a Infected animal. It has one Blade-Arm.
Magical Attribute: Dark.
Katari Taomis
(Dark Harbingers)
A very strong Taomis Form. Made with Taomis Spores and Samples collected by Talynar Spores from Native Creatures. These are Fearsome creatures. Its Blade Arm is covered with Talynar Spores meaning it can transform Native Animals into Taomis Forms.
Magical Attribute: Dark.
Sabaraii Taomis
(Del'Sabarius)
Plant-Life life-form with Saber arm and Shield arm. These are nasty opponants, they can jump extremely far and there shield itself can protect it well. It is humoid and mostly black. Its blade is formed completely of Dark Purple Taomis Spores meaning it can turn Native creatures into Taomis Creatures.
Magical Attribute: Dark.
Menian Taomis:
(Menian)
A evolved version of the Tamaii Taomis. Its blade arm is coated Idolia Spores. These spores infest Native Creatures or Poison Sentient Life-Forms. The Menian Taomis is very strong.
Magical Attribute: Dark.
Taomis Glossary:
Native Creature: Any Non-Sentient Animal which lives on a planet.
Talynar Spores: Pollen used to infest Native Creatures.
Idolia Spores: Advanced Version of Talynar spores, same effect but can poison Sentients.
The Remnants of the Novala Covenant
The Novala are a race of Machines. They were split into two factions over whether to side with Dominance or not. The result became the Novala Covenant, they entered a pact with Dominance and helped him. The Novala Empire let them leave Peacefully. After Dominance's destruction and the Shattering, the Remnants of the Covenant's forces have been spread thin, their main base is located on Xai IV, the space station there is the only Covenant base to have survived.
- The Novala Empire -
For Five Hundred years the Novala served the Proto Empire. A creative spark however, changed all that, as only three hundred years ago the Novala broke away and managed to kill hundred's of Proto soldiers before disappearing in the unknown regions for five years. It is unknown what they encountered. They were forced back into the open and were greeted by bitter Proto's, a lengthy war ensued.
A year Ago, Dominance approached them with a offer to join him. There was disagreements about what to do. This resulted in the Novala Covenant forming and breaking off from the Novala Empire, they joined Dominance. The Novala Empire has mysteriously disappeared. The Unknown regions are deathly quiet and noone returns from them now.
Database to be done:
Proto Empire.
Darkai Loran.